Backstage and behind the scenes
by Meredith Hooker
Gazette Staff Writer
April 28, 2004
Check out Mr. Kaluta's book at Amazon by clicking here to go Amazon.com
Blair drama teacher helps students to pursue the perfect play.
John Kaluta motioned for a backdrop to be lowered, then inspected the scene painted on it. He pointed out the imperfection of an arch in a window to a student, and then ducked backstage in Montgomery Blair High School's auditorium.
He popped back out a moment later, quickly crossed the stage while actors rehearsed scenes from the musical "The Merry Widow," and went outside where a small group of students were struggling with a thin, S-shaped wooden structure that was supposed to be part of a railing that would go on a curving staircase.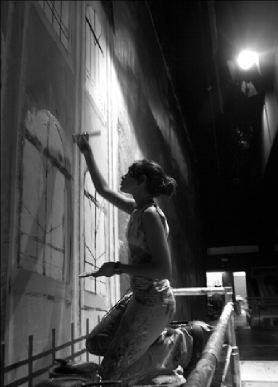 "It's not strong enough, see?" he said, shaking it for emphasis. Kaluta would know. He recently published a book titled "The Perfect Stage Crew." And the 45-year-old Beltsville resident and technology education teacher at Blair has been the sponsor of the school's stage crew for more than a decade and has been involved with theater since he was in high school. He's worked short stints at the Folger Theater, Montgomery Playhouse and Arena Stage, as well as in New York City at the TOMI Theater with his brother.
"The Perfect Stage Crew" isn't for professionals, Kaluta said. It's for the stage crew novice, like a parent who wants to get involved in a child's theater production, and includes the basics of putting a show together.
After Blair's production of "Guys and Dolls" a few years ago, Kaluta decided he wanted to take a break, maybe do some sailing. He began typing some instructions to the person who was to be taking over for him backstage.
"The next time I looked up, there were 14 pages on the computer," he said. He realized he had enough material to write a book about backstage work. Kaluta returned to the theater group when his successor started working on a different after-school club. He never did get around to sailing.
The students were excited when they learned his book was going to be published, Kaluta said, because some of them are mentioned. Being called the perfect stage crew puts them under pressure, he said, "but they're taking it in good humor."
On Saturday, the students were more focused on preparing for their production of "The Merry Widow" and its April 30 opening night. About 100 students are involved in the production, with 25 on the stage crew, Kaluta said.
The actors' job is to learn their lines, sing songs and convince people that they are their characters, Kaluta said. They can't get that job done well without the pit orchestra and, of course, the stage crew. You need a real backdrop, Kaluta said. You need props and appropriate sound and lighting. You need people to move things on and off stage. Not all students want to act, he said, and the stage crew provides another way to be involved with an artistic production.
"Other kids love to build and paint. Their fascination is not with acting, their fascination is with the technical endeavor," he said. The stage crew has been working for about two months to create three sets. They looked at pictures and watched the "Merry Widow" movie to get ideas, then figured out what would fit where on the stage, he said. Inevitably, there are crises to solve, Kaluta said. This year, it's the mini-microphones. Three are being repaired and fingers are crossed that they'll work on opening night.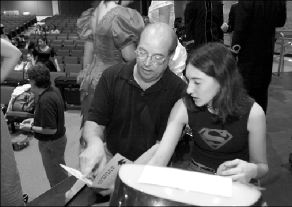 On opening night, it's up to the students to run the performance. Kaluta will sit in the audience and he'll stay there until intermission unless he's needed. "It's their show from curtain to curtain," Kaluta said.
In 12 years, he's only had to intervene once. When the school performed "West Side Story," there was a scene in which a large fire escape got caught on the curtain, and the students couldn't free it themselves. The dedicated students The theater group is dedicated, Kaluta said. They have good grades. They come early. They stay late. On Saturday, they were at school for six hours.
But that was all right with 15-year-old Anuja Shah of Silver Spring, a Blair sophomore who was truly into her work. The paint mistress -- her title -- was covered head to toe in various colors. Earlier, Kaluta had instructed her to correct an arch of a window in the play's main backdrop and she had perched on a scaffold, paintbrush in hand, to fix it. The backdrop depicted colorful trees and the facade of a building in Paris.
Shah, an artist, was in charge of the scenery for "The Merry Widow," but, she said, "I dabble in everything." She said she got involved with the stage crew at Blair two years ago. Last summer, she also worked at Montgomery College's summer dinner theater.
In the middle of the auditorium, 17-year-old Abigail Graber and 16-year-old Joel Turnham, both of Silver Spring, sat at a makeshift table -- a piece of plywood propped over two rows of seats -- covered with papers and two yellow hard hats.
Turnham, a junior, was in charge of lighting design and was setting up light cues to be saved on a computer.
Turnham has been involved with the stage crew for three years. It requires some long hours, he said. He'll get to school at 7:30 a.m. and sometimes stay until 10 p.m. And that's in addition to Saturday's six-hour rehearsal.
"It's a lot of work," he said. "It's also a lot of fun." Graber, a senior and the play's stage manager, agreed. "I love this. I've always loved watching plays."
Graber was helping Turnham set the light cues. She also helped work with painting and construction. Her real responsibility wouldn't come until opening night when she'd call cues and tell actors and stagehands when to change scenes.
The auditorium was filled with happy, controlled chaos as the pit orchestra played selections from the musical, can-can girls in bright pink dresses linked arms and high-kicked across the stage, and girls and boys in fancy dresses and tuxedos chatted in the audience. "I don't think they're ever going to forget this," Kaluta said, gesturing around him. "Look at them. They're having a great time." That's the way it should be, he said, recalling the fun he had when he was involved in plays as a student. "I hope it's doing the same things for these kids."
Photos by Rachael Golden/The Gazette
(Top) Montgomery Blair High School sophomore Anuja Shah paints a backdrop Saturday for the school's spring musical.
(Bottom) John Kaluta helps Montgomery Blair High School senior Piper Hanson work on the program for the upcoming high school musical.